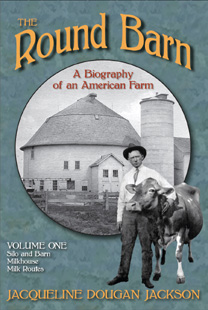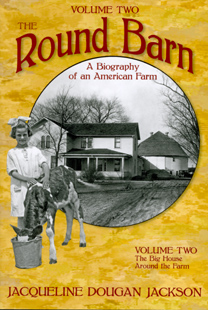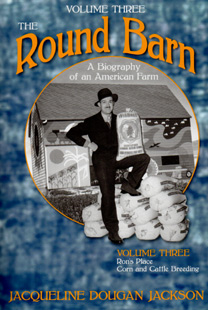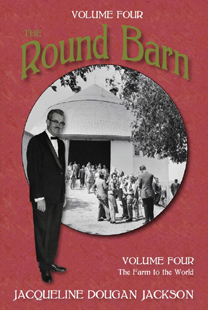 The Round Barn - Volume I, II, III, & IV
Beloit College Press - 2010 / 2017
Begun with a promise to Grampa when Jackie was just fifteen, The Round Barn is now in print! Join her as she shares farm stories spanning almost seven decades. Meet "Daddy Dougan," Ron, Vera and the kids: Joan, Patsy, Jackie, and Craig; the hired men, neighbors, and the town beyond. With dozens of authentic photos, this book is touching, funny, tragic, and warm – truly.
"A Biography of an American Farm."
A lifetime of stories and a promise fulfilled - Volume Three of the Round Barn has just been published. Volume One was published in 2010. Visit the publication website for more information and for ordering details!
www.roundbarnstories.com
---

NEW FEATURE


2nd Turtle Hoedown
[MP3 Audio recording]

American Breeders Service - tape 2a
[MP3 Audio recording]

American Breeders Service - tape 2b
[MP3 Audio recording]

American Breeders Service - tape 3a
[MP3 Audio recording]

American Breeders Service - tape 3b
[MP3 Audio recording]

American Breeders Service - interview
[MP3 Audio recording]

Al Cox-1-91
[MP3 Audio recording]

Bob and Elane George 8-91
[MP3 Audio recording]

Chris Polge
[MP3 Audio recording]

Claireand Leona Mathews9-2-79
[MP3 Audio recording]

Dick Knilans tape-2 3-1-70
[MP3 Audio recording]

Don King remembers g-pa blessing 3-15-79
[MP3 Audio recording]

Fred Siebenman-1 3-4-98
[MP3 Audio recording]

Hap Hornbostel
[MP3 Audio recording]

Helen Wallace 9-4-03
[MP3 Audio recording]

Jesse and Marnon Hunt 9-13-unknown
[MP3 Audio recording]

Jim Howard at dinner, rad isle of guernsey
[MP3 Audio recording]

Johny Holmes 11-22-80
[MP3 Audio recording]

Johny Holmes, writer 80-81
[MP3 Audio recording]

Johny Holmes
[MP3 Audio recording]

Jorgenson-l 4-23-98
[MP3 Audio recording]

Mary Creighton 4-14-84
[MP3 Audio recording]

Ron Dougan - miss glen, norman neal 9-6-81
[MP3 Audio recording]

Ron Dougan - on college (1998) 3-19-90
[MP3 Audio recording]

Ron Dougan - on Polly 10-17-88
[MP3 Audio recording]

Ron Dougan - Phil Holmes- corn
[MP3 Audio recording]

Ray Bernice Jorgensen 4-23-98
[MP3 Audio recording]

Rodney Jennmgs at wonowoc 10-14-88
[MP3 Audio recording]

Ron Dougan
[MP3 Audio recording]

Ron Dougan - on Beloit negros
[MP3 Audio recording]

Ron Dougan - interview in his 90s by Gene Shepherd
[MP3 Audio recording]

Sandy Parker and mother on esther 6-l-99
[MP3 Audio recording]

Treverwith RAD 4-5-80
[MP3 Audio recording]

Vera Dougan memorying - macmurry college (1990 6-3-78
[MP3 Audio recording]

Vera Dougan rad - on esther-eloise9-8-81
[MP3 Audio recording]

Allen Adams Tape-1 6-9-81
[MP3 Audio recording] [PDF Text Transcript]

Claire Matthews - Tape 2 - 9-2-79
[MP3 Audio recording] [PDF Text Transcript]

Claire Matthews tape-3
[MP3 Audio recording] [PDF Text Transcript]

Craig D tells of 1947-57 8-28-80
[MP3 Audio recording] [PDF Text Transcript]

Dick Knilans - tape 3, side 5
[MP3 Audio recording] [PDF Text Transcript]

Dick Knilans - tape 3, side 6
[MP3 Audio recording] [PDF Text Transcript]

Fannie v, tape-2 2-26-76
[MP3 Audio recording] [PDF Text Transcript]

Geo & Elsie Tscharner tape 1 1-17-85
[MP3 Audio recording] [PDF Text Transcript]

Helen Burnett tape-1 5-25-80
[MP3 Audio recording] [PDF Text Transcript]

Irv tape-1 3-4-79
[MP3 Audio recording] [PDF Text Transcript]

Irv tape-2 3-4-79
[MP3 Audio recording] [PDF Text Transcript]

Jim Howard tape-4
[MP3 Audio recording] [PDF Text Transcript]

Jo Dougan Schmidt tape-1 3-15-79
[MP3 Audio recording] [PDF Text Transcript]

Jo Dougan Schmidt tape-2 3-15-79
[MP3 Audio recording] [PDF Text Transcript]

Jo Dougan Schmidt tape-3 3-15-79
[MP3 Audio recording] [PDF Text Transcript]

Neil Manley at 102
[MP3 Audio recording] [PDF Text Transcript]

Ron Dougan - cornhusker, corn ops, abs 3-18-79
[MP3 Audio recording] [PDF Text Transcript]

Ron Dougan - field crops 3-20-79
[MP3 Audio recording] [PDF Text Transcript]

Vera Dougan and rad on landscape 3-20-79
[MP3 Audio recording] [PDF Text Transcript]

Vera Dougan rad poems, milk assn 11-27-82
[MP3 Audio recording] [PDF Text Transcript]

Allan Adams - tape 2
[PDF Text Transcript]

Great Brains
[PDF Text Transcript]

Pat's rememberings
[PDF Text Transcript]